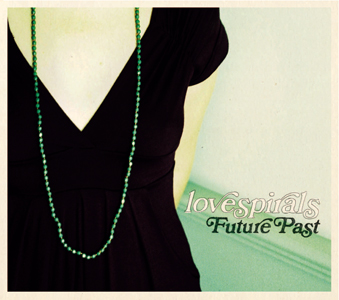 Future Past, Lovespirals' 4th full-length album, is a career-defining synthesis of the band's vast musical influences into a fresh new electronica sound. This captivating 11 track set contains their strongest songwriting to date, with an attention to detail in recording quality and production that is unmatched in the duo's decade-long history. As the title suggests, Lovespirals have melded the contemporary with the classic; embracing the past, but with an eye towards the future.
Tracklisting:
Home (3:38)
Feel So Good (3:53)
Rain (4:27)
Shine (3:46)
One of Those Days (3:44)
Love (3:43)
Water Under the Bridge (5:06)
Meanwhile, Irreplaceable Time Flees (1:56)
Insignificant (3:58)
Sinking (3:16)
Believe (5:20)
Lovely album opener, "Home," happily welcomes the band's return to electronica from their previous Dream Pop release, Long Way From Home. This track, along with the gorgeously melancholic "Shine," and epic album-closer, "Believe," are bittersweet electro-pop gems in the vein of early Air or Zero 7, with lazy beats, lush arrangements, and Bee's honeyed vocals. But Lum's masterful guitar work sets the band apart from their contemporaries, bringing the rhythm and lead playing of a classic rock artist to a largely computer-based genre.
It's the magical combination of Lum's soulful guitar and Bee's sumptuous vocal harmonies that is the cornerstone of Lovespirals' unique signature sound. With a subtle yet powerful mix of musical moods and emotional expressions, Future Past is sure to enchant both old and new listeners for years to come.