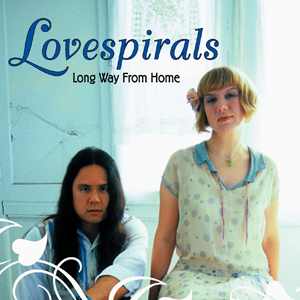 Lovespirals truly hit their stride on their 3rd full-length album, Long Way From Home, released October 2007. Melding the dreamy folk and rock of their debut, Windblown Kiss, with the soulful jazz and blues of follow-up, Free & Easy, the duo seamlessly blend prior influences with new sounds and styles. The sensual voice of Anji Bee spins seductive tales of beautiful sadness and spiritual longing set to Ryan Lum's melancholic music. Bluesy electric guitar abounds, with touches of wistful slide guitar, tinkling piano, and haunting harmonica to evoke a lush, organic, Americana feel.
Matthew Johnson of Re:Gen Magazine writes:
It's not an understatement to call Long Way from Home the duo's most accomplished work up to date… This album captures Lum and Bee's warm musical chemistry in a way that previous releases only hinted at.
Matt Rowe of MusicTap.net writes:
Lovespirals latest, the wonderfully titled Long Way From Home, is one of superior work and can easily rank as the band's best work in either incarnation [Lovespirals or Love Spirals Downwards].
Tracklisting:
1. Caught in the Groove (4:45)
2. Empty Universe (3:11)
3. Treading the Water (4:27)
4. Once in a Blue Moon (3:57)
5. This Truth (3:44)
6. Motherless Child (2:37)  Download Free MP3
7. Sundrenched (3:26)
8. Nocturnal Daze (3:59)
9. Lovelight (4:34)
10. Lazy Love Days (5:10)
Download the Long Way From Home Medley (128k mp3)
Purchase an autographed copy via Lovespirals Webstore!